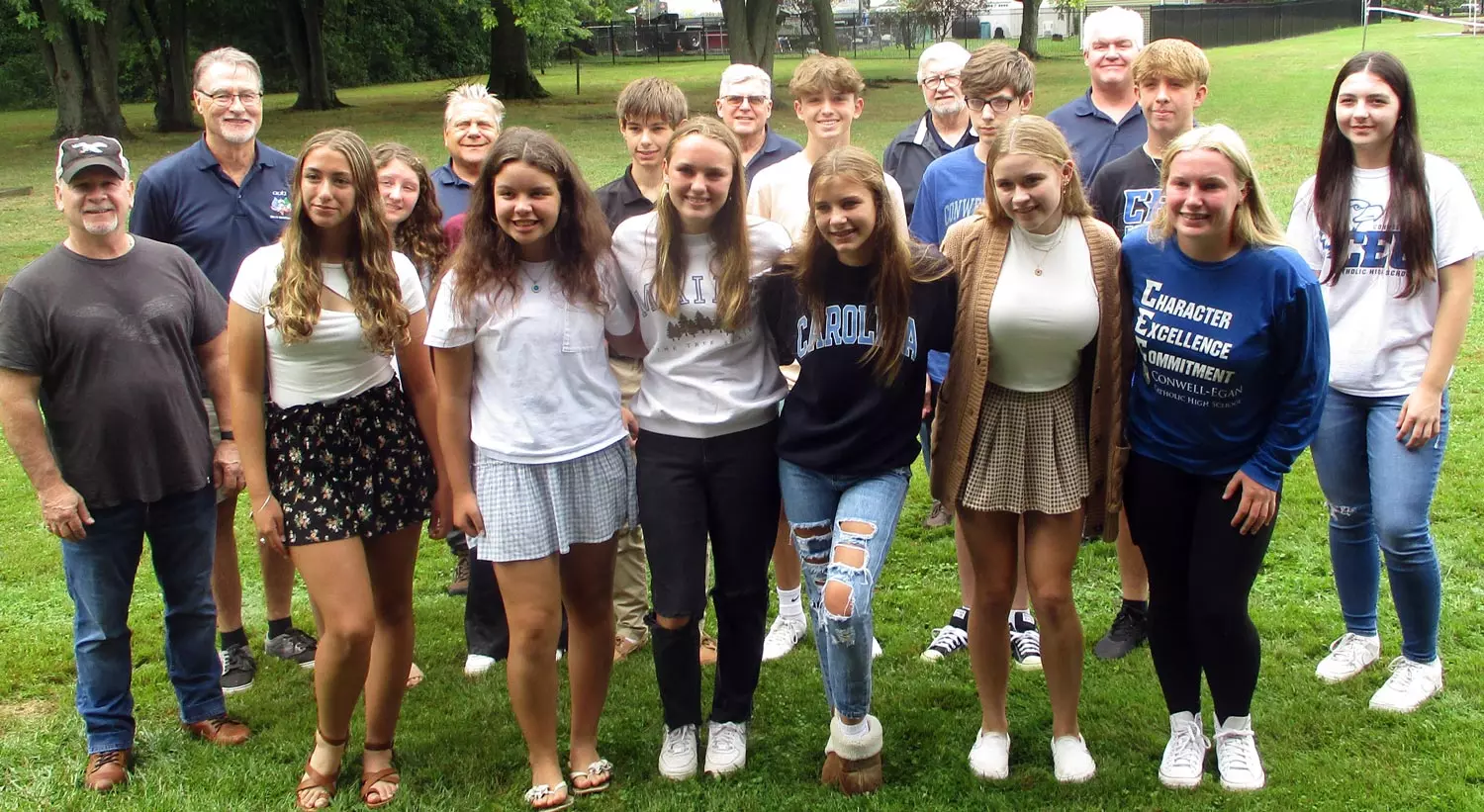 AOH, Division 2, Newtown, PA 2022 Scholarships Winners
Congratulations to our 2022 winners!
Eveleen Rose McGinley
Eveleen Rose McGinley is very proud of her Irish heritage. She plans her family's "Parade Day" in Philadelphia every March. Evie Rose is a 2022 graduate of Saint Andrew Catholic School, where she was a member of the National Junior Honor Society, the Ministry Team, and the Yearbook Club. She has been a part of the Saint Andrew Tonechime Ensemble for four years. Community service is a big part of her life. She volunteers at Cradles to Crayons, J.B.F. Pennsauken, C.A.R.E.S. at Saint Andrew School, and the C.Y.O. Snack Shack. Evie recently organized a yard sale to raise money for brain injury research. Her yard sale raised $2500 for the University of Pennsylvania's Center for Brain Injury and Repair. Evie is also a competitive athlete. She plays soccer, volleyball and basketball for C.Y.O. and club teams. She looks forward to starting high school at Villa Joseph Marie in the fall.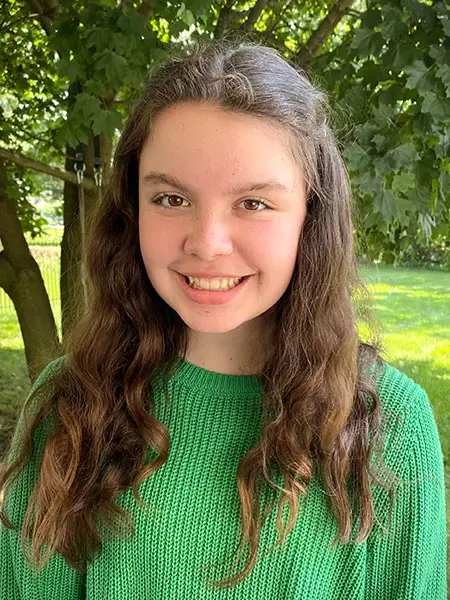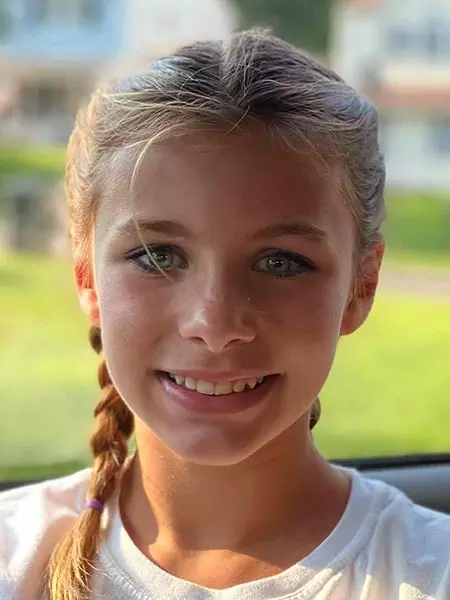 Grace Kravcak
My name is Grace Kravcak. I am a recent graduate of Our Lady of Good Counsel. I was a member of National Honor Society and hope to continue to do so at Villa Joseph Marie, the high school I will be attending in the Fall. I am very proud of my Irish Catholic Heritage. I have been a student of Irish Dance for 11 years. I also enjoy horseback riding and volleyball. I am an active member of the St. Bede's youth group which provides many opportunities to volunteer in the community. I have been an alter server at OLGC for the past 3 years. I am blessed to be surrounded by my family who continues to instill Irish culture.
James Esposito
James Esposito is a current 8th grader at Newtown Middle School in Newtown, Pennsylvania. He lives in Newtown. This fall, James will be entering his freshman year at Holy Ghost Preparatory School as part of the class of 2026. He is most proud of his academic accomplishments thus far in school, and he is excited to continue his efforts at Holy Ghost. He was awarded a Holy Ghost Prep Liebermann Scholarship for his strong academic record. His favorite subjects in school are History, Economics, and Law. James has been playing ice hockey since the age of 4 and he spends most of his free time playing hockey both for his school team and his travel team, the Princeton Tigers. James also has participated in cross-country, track, and forensics. He plans to play ice hockey and join the forensics team once at Holy Ghost. In the past, James has volunteered his time working alongside his father with the Hibernian Hunger Project. James is a highly motivated student-athlete and is honored by the Ancient Order of the Hibernians of Newtown selecting him amongst their scholarship recipients. He strives to make them proud!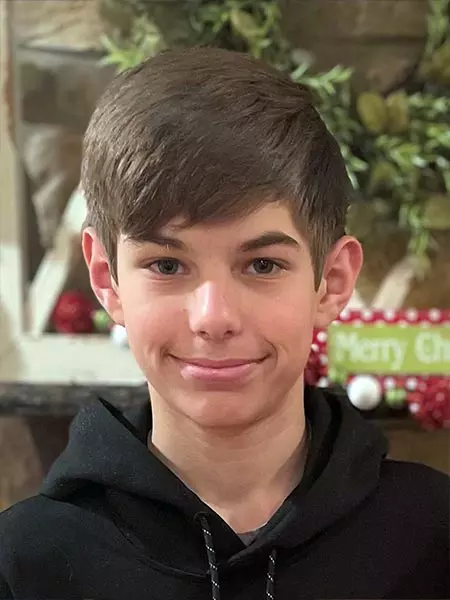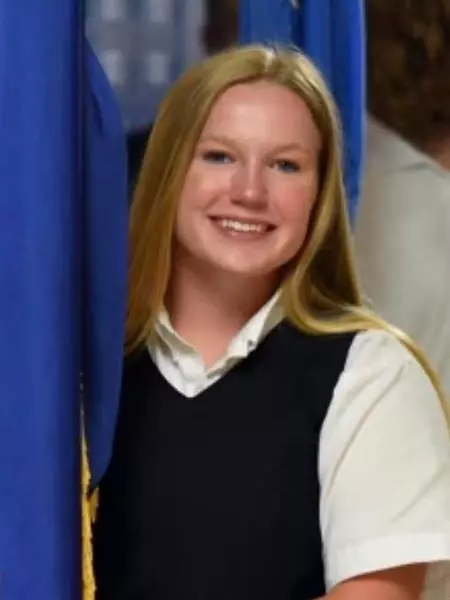 Katey Brennan
My name is Katey Brennan and I am Captain of my Varsity Softball and Basketball teams and our Football Manager. I am a Student Council Officer, participated as a Spirit Night Team Member and I am in the National Honor Society. I am a DLFF Scholar,a Graduate of the Travis Manion Leadership Course and work as a Sacristan at St. Ignatius Church. I also am a Volunteer Altar Server at St. Ignatius.
Mairead McGinley
Mairead McGinley is the oldest of four children, and there is nothing she enjoys more than being with her big Irish, Catholic family, especially her cousins. Mairead just finished her first year at Villa Joseph Marie High School where she earned high honors. She was vice president of her freshman class, and held a leadership position in the Pro-Life Club. Mairead is an active member of many clubs, including: Athletes Helping Athletes, the Diamond Key Club, Community Service Corp, and the Ceramics Club. During the autumn season, Mairead plays tennis for Villa and organizes the Saint Andrew soccer teams' snack orders for the C.Y.O. Snack Shack. You can also find Mairead altar serving at Saint Andrew Church on most Sundays.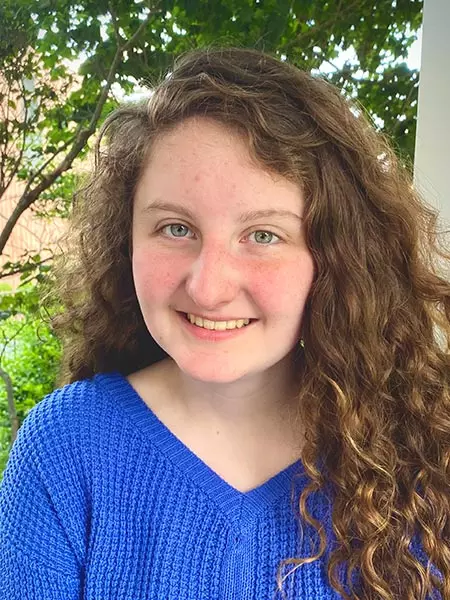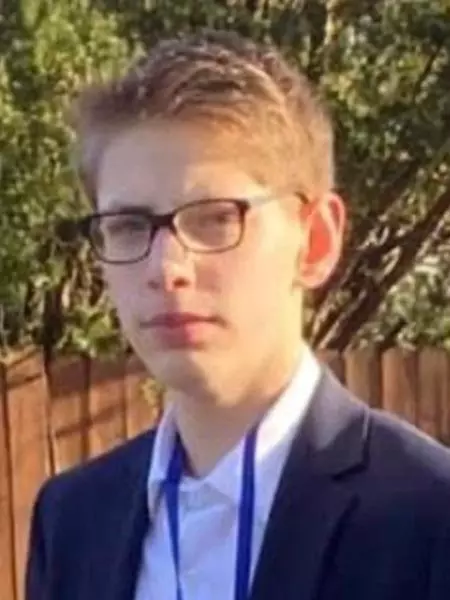 Mason Burghart
My name is Mason Burghart. I am a freshman at Conwell Egan Catholic High School. I am currently a member of Birds Eye View, a social media club. The club allowed me to make friends in a new school. In the fall I am looking forward to trying out for the soccer team. My favorite subject in school is History and I especially like learning about the wars.
I also like learning new languages. In addition to Spanish class at school, I have been teaching myself German, French, and Polish. I work most weekends as a sacristan at St. Charles Borromeo Church. I try to be a good student academically and a respectful person in my community.
When I'm not at school or working I enjoy gaming, bodyboarding and hanging out with my friends. I live at home with my mom, dad, sister and my dogs, Bentley and Gus. I am very thankful to the Ancient Order of Hibernians for this scholarship.
Jacob Stewart
My name is Jacob Stewart and I live in Bristol Borough. I am going into 10th grade at Conwell Egan Catholic High School. I enjoy playing sports, which include soccer, basketball and track. I am currently on the soccer team at CEC and playing in the summer league. I also play travel soccer for YMS. I like playing video games and hanging out with my friends. I was a captain during Spirit night and really enjoyed the fun competition. I am looking forward to that again this school year. Thank you again for the scholarship, I am very grateful.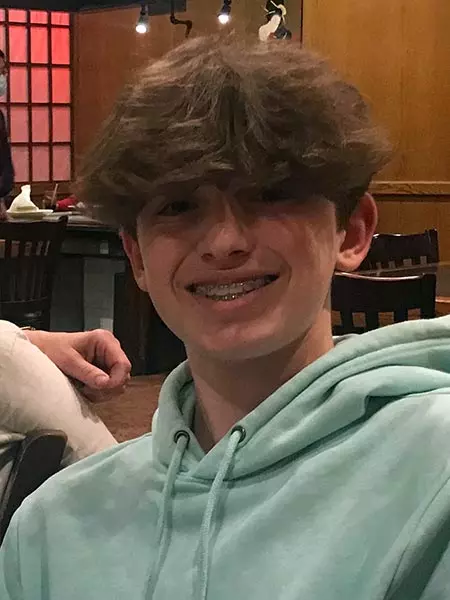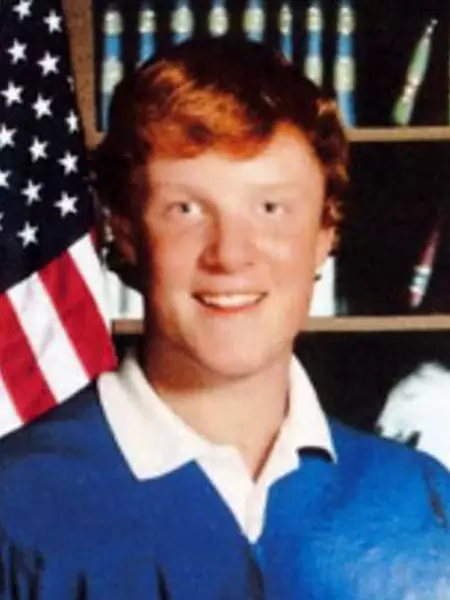 Keenan Stahl
Keenan Stahl recently graduated from St. Andrew Catholic School where he participated in a wide array co-curricular activities, was a Danaher Lynch Pathway Scholar, and a National Junior Honor Society member. Keenan's athletic pursuits include football, basketball, and lacrosse as he plays on both school and club teams. As a Life Scout and member of Troop 29, Keenan is a service-minded young man contributing his time and efforts to supporting two causes dear to him- the Lymphoma & Leukemia Society and Level the Playing Field. In the summer months, Keenan takes some time to sail competitively in his Laser Radial up and down the Jersey Shore. The summer is also special time for Keenan as its time spent with his extended Irish family, especially his Grandparents who entertain him with stories from their childhood. Keenan will be attending La Salle College High School in the fall where he plans to pursue a strong academic schedule, his commitment to service, and several of his favorite sports. Slainte!
Niamh Cole
My name is Niamh Cole and I am a junior at Villa Joseph Marie High school. I am the second youngest of seven children. I play lacrosse and volleyball. I love to catch up with my friends and spend time with my family. My mom is from Ireland and some of my cousins are coming here for a few weeks during the summer. I just became an aunt and I love my nephew.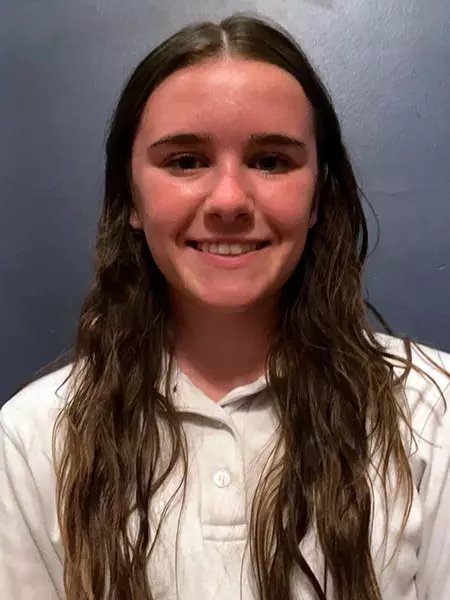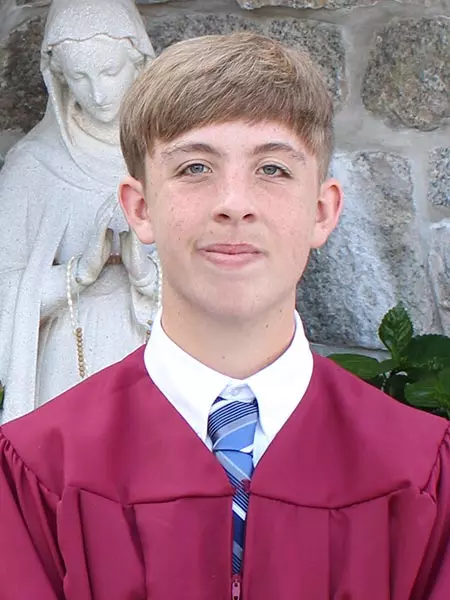 Brian Michael Baill
Brian Michael Baill,14, is a recent graduate of Holy Family Regional Catholic School, having attended since kindergarten. While at Holy Family, Brian was a member of the choir, student government, CYO athletics, and the safety patrol. Brian also participated in the school plays in grades 2-6. A member of Queen of the Universe Parish in Levittown, Brian is an altar server. Brian joined Scouts BSA in second grade, and reached the rank of Second Class. He participated in many service projects, including Wreaths Across America and Eagle Scout projects. Unfortunately, due to the COVID-19 pandemic, the troop took a pause, and Brian decided to pursue other activities. Brian is very excited to be attending Conwell Egan Catholic School in the fall, where he will be a member of the men's bowling team. Besides bowling, Brian also enjoys playing a variety of sports, including flag football, soccer, and basketball. Brian would like to thank the Ancient Order of Hibernians for this scholarship.
Kayleigh O'Shea
Hi! My name is Kayleigh O'Shea and I am a recent graduate of St. Andrew Catholic School. I have three younger siblings, Brenna, Jamieson and Kieran and a dog named Holly. I graduated St. Andrews with honors and was a member of the National Junior Honor Society. I am also involved in many clubs and school activities such as Ministry Club, Future Cities Club, Art Club and Yearbook Club. I also really enjoy playing CYO basketball and volleyball. In my free time, I love baking, painting, listening to music and playing with my dog. I'm very much looking forward to becoming a freshman at Villa Joseph Marie High School this fall.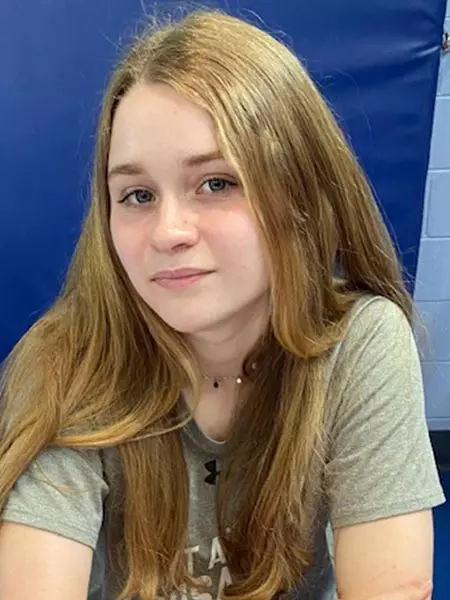 Sinead Cole
My name is Sinead Cole and I am excited to enter Villa Joseph Marie High school in the fall of 2022. I love anything equestrian and being with my family. I am the youngest of seven children. My mother emigrated from Dublin, Ireland so I visit my aunts, uncles and cousins on a yearly basis. I just became an aunt and my nephew is very cute!
Sinead Cole is our Casey-Burns $1500 Scholarship winner!
Gabriella Byrd
My name is Gabriella Byrd and I am a recent graduate of St.Ephrem Catholic School in Bucks County. I have been a First Honors student since the 4th grade. I have assisted my church community by altar serving for the past 4 years. I acted in many forms of community service over the years, but my largest and most recent act of community service was at my schools C.A.R.E.S program. Twice a week, I acted as a counselor, helper, and friend to all of the students. I enjoy hanging out with my friends and I am very family oriented. Sports take up most of my time, as I am a 3 sport athlete. I have been playing soccer, basketball, and softball since I was 3 and plan on making a career out of one of the first 2 sports. I will be attending Nazareth Academy in the fall, where I will try out for all 3 sports. I will hold myself to a high standard all 4 years where I will work to achieve academic and athletic excellence.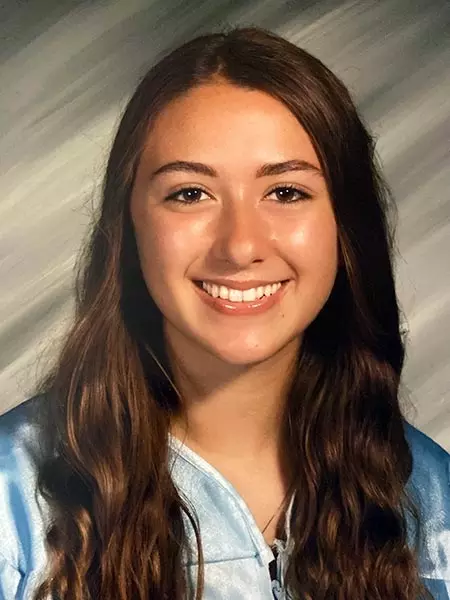 Isabella Petrillo
My name is Isabella Petrillo and I recently graduated from Holy Family School. I participated in our liturgies as a lector and reader for our Stations of the Cross services during Lent. I was a member of our Student Council serving as a classroom representative. I worked with our younger students as a lunch aide and prayer partner. On Flag Day at the Falls Community Park, I helped out placing flags to commemorate the brave soldiers that lost their lives during the Vietnam conflict. I enjoy being Irish and learning about my Irish heritage and traditions. I hope that one day I can pass my family's history onto my children as well.